Won't fill out the 2010 census? Your ranks are getting smaller.
Attitudes toward the 2010 census have improved markedly in the last few months.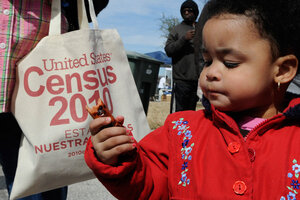 Pat Sullivan/AP
With the 2010 census under way, about 1 in 10 people may not participate in the population count, with many saying they see little personal benefit from the government survey or have concerns that it may be intrusive, according to a poll released Tuesday.
The Pew Research Center poll shows marked improvement in public interest since January. At that time a poll showed 1 in 5 might not mail back the census form. Still, the new poll highlighted lingering apathy toward the head count, particularly among young adults.
"There is an increased commitment to participating in the census, but disparities remain," said Michael Dimock, an associate director of the Pew Research Center for the People & the Press. "These include groups who have less-certain economic situations and who are often more mobile, which poses a challenge for the census count."
The poll comes as more than 120 million census forms arrive in mailboxes this week. The population count, conducted every 10 years, is used to distribute U.S. House seats and more than $400 billion in federal aid.
Stephen Buckner, a spokesman for the Census Bureau, said the increase in overall public awareness was heartening, noting that the government can save $1.5 billion in follow-up visits if everyone mails back their forms.
---