Are you ready? Historic health care reform vote is today.
Democratic Party leaders appeared confident that most of the uncommitteds would vote yes on the health care reform bill.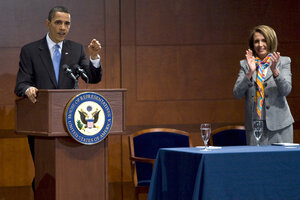 NEWSCOM
House Democrats are predicting that a rare Sunday session will produce one of the most significant legislative triumphs in decades: passage of a historic bill to overhaul the nation's health care system to provide coverage to millions of people who currently lack it.
Republicans resolutely opposed to the bill didn't concede defeat Saturday, but warned they will make Democrats pay dearly in the fall elections if the fiercely debated measure becomes law.
With President Barack Obama's emotional appeal from Saturday ringing in their ears, House Democratic leaders prepared for three showdown votes Sunday: on a "rule" to establish debate guidelines; on a package of changes to a Senate-passed bill, including deletion of special Medicaid benefits for Nebraska; and on the Senate bill itself, the focus of intense national debate for months.
Democrats need 216 votes to pass each one. With all 178 Republicans and at least two dozen Democrats vowing to vote no, the legislation's fate lies in the hands of about 20 Democrats who remained uncommitted late Saturday.
Party leaders appeared confident that most would break in favor of the bills. They pointed to Obama's emotional speech to the caucus at the Capitol, and they cited a sense of momentum from the handful of rank-and-file Democrats who have announced their support over the past several days.
---