Texas Rep. Randy Neugebauer admits he shouted "baby killer" during floor debate
Neugebauer insists that he was not referring directly to a fellow congressman but to an agreement made in the 11th hour.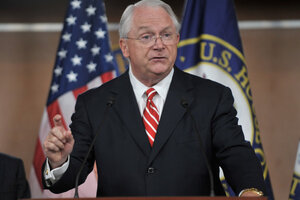 NEWSCOM
Texas Republican Rep. Randy Neugebauer acknowledged Monday that he is the lawmaker who shouted out "baby killer" during a floor speech by Rep. Bart Stupak, an anti-abortion Democrat whose vote was crucial to passing the Democratic health care bill Sunday evening.
Neugebauer, who has represented a solidly GOP district that includes the city of Lubbock since 2003, said he had apologized to Stupak for his outburst, which drew a rebuke from the chair during the often-rowdy debate.
"Those that are shouting out are out of order," said Rep. David Obey, D-Wis., who was presiding in the chair at the time.
Neugebauer insisted in a statement that he was not referring directly to Stupak but to the agreement that the Michigan Democrat helped work out with the White House. That eleventh-hour agreement, under which President Barack Obama said he would issue an executive order pledging that no federal funds be used for abortions, helped seal the last votes Democrats needed to pass the bill.
He said his exact words, referring to that agreement, were "it's a baby killer."
"While I remain heartbroken over the passage of this bill and the tragic consequences it will have for the unborn, I deeply regret that my actions were mistakenly interpreted as a direct reference to Congressman Stupak himself," he said.
---