Iron Man 2: Robert Downey Jr. returns as superhero
Iron Man 2: Robert Downey Jr. is joined by Gwyneth Paltrow, Scarlett Johansson, Mickey Rourke, and Don Cheadle in the sequel to the 2008 superhero blockbuster.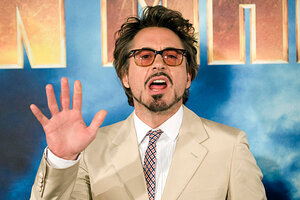 Gus Ruelas/REUTERS
As a kid, Robert Downey Jr. never dressed up in superhero costumes.
"Growing up? No," says Downey Jr. "But in my mid-30s in Palm Springs right before an arrest? Yes. It was a premonition."
Although the actor is making light of his past struggles with drug abuse, what is no joke is Downey Jr's success at resurrecting his acting career after overcoming a long addiction to heroin and cocaine.
He made a stunning comeback as Tony Stark, an arrogant, hard drinking, wisecracking playboy engineer who also wrestles with his own personal demons in 2008's big screen adaptation of the Marvel comic book series, "Iron Man."
Now, Downey Jr., 45, is back in "Iron Man 2" along with plenty more action, characters and explosions. The film opens in much of Europe, Asia and Australia this week before hitting U.S. theaters on May 7.
The parallels between Downey Jr. and Tony Stark were obvious in the original and are just as clear in the sequel.
After five years of drug arrests culminating in a prison term in 2000, Downey Jr.'s return to Hollywood's A-list post- "Iron Man" -- including a Golden Globe award for his role in "Sherlock Holmes" -- is not unlike Stark's own rise in status after he reveals his dual identity as the armored superhero.
---