Tiger Woods takes 2nd step on golf rehab at Quail Hollow
This week, Tiger Woods will make his 2nd PGA Tour start on a golf rehab at the Quail Hollow Championship in Charlotte, North Carolina.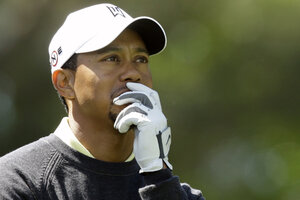 AP Photo/Chuck Burton
Charlotte, North Carolina
Tiger Woods hopes his second step back on the PGA Tour is even better than his first.
Woods' golf rehabilitation continues Thursday at the Quail Hollow Championship, three weeks after he ended a five-month hiatus from the game at the Masters. Woods finished in a share of fourth place at Augusta National, a remarkable feat given the sex scandal that destroyed the foundations of his old life and made his new one fodder for every tabloid and news magazine.
But the spotlight's glare isn't nearly as bright at Quail Hollow Club, and this time Woods is armed with two-plus weeks of work on what didn't go right at Augusta.
"There were some things I didn't like in my golf swing, so I started to work on that, simplify things a little bit, got everything more fine-tuned," Woods said Wednesday. "And I feel very comfortable."
Woods and Phil Mickelson head one of the year's best fields at Quail Hollow, which has the feel of a major. Fans who took off from work and skipped school lined the course during the pro-am that included celebrities such as new Charlotte Bobcats owner Michael Jordan.
---