NY community board approves plan for Ground Zero mosque
A New York City community board has given approval to a plan that would build a mosque and cultural center near Ground Zero, the site of the World Trade Center twin towers destroyed on September 11, 2001.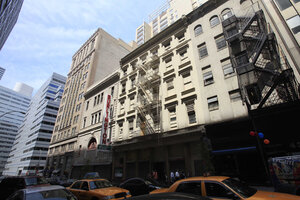 AP Photo/Mark Lennihan, File
After hours of contentious public comment, a New York City community board voted late Tuesday to support a plan to build a mosque and cultural center near ground zero.
"It's a seed of peace," board member Rob Townley said. "We believe that this is significant step in the Muslim community to counteract the hate and fanaticism in the minority of the community."
The vote was 29-to-1 in favor of the plan, with 10 abstentions. The move by the Manhattan Community Board 1, while not necessary for the building's owners to move forward with the project, is seen as key to obtaining residents' support.
Some board members wanted to postpone a vote until the next meeting to gather more information about the project and the organizations sponsoring it. But the motion failed.
The meeting was unruly, with project opponents jeering at speakers and yelling comments such as "You're building over a Christian cemetery!" while holding signs that read, "Show respect for 3000," among other things.
Many said they were not opposed to a mosque — just not one that's two blocks from ground zero.
The families of Sept. 11 victims "would be wounded by erecting a mega mosque so close to the place where their loved ones were massacred," said Viviana Hernandez, a chaplain. "Even though they may have altruistic reasons, the real terrorists will see it as a win on their side."
Tea party activist Mark Williams has called the proposed center a monument to the terror attacks.
---