Entertainment Weekly names Homer Simpson the greatest character in 20 years
Homer Simpson beat out Harry Potter and Buffy the Vampire Slayer for top spot in Entertainment Weekly's list of the 100 best film and television characters created in the past two decades.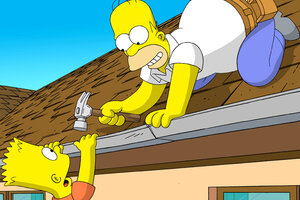 20th Century Fox/Newscom/File
Beer-swilling, doughnut-lover Homer Simpson has been named the greatest character created for television and film in the past 20 years.
The star character of long-running U.S. cartoon series "The Simpsons" beat schoolboy wizard Harry Potter and vampire slayer Buffy to take top place in the survey for U.S. entertainment magazine Entertainment Weekly.
Simpson's creator Matt Groening said millions of people were able to identify with Homer with his catchphrase "D'oh."
"The Simpsons," broadcast in more than 90 countries, is the longest-running U.S. TV series in prime time, now in its 21st season.
"People can relate to Homer because we're all secretly propelled by desires we can't admit to," Groening was quoted as telling Entertainment Weekly.
"Homer is launching himself head-first into every single impulsive thought that occurs to him. His love of whatever...is a joy to witness."
Harry Potter, created by British author JK Rowling and played by actor Daniel Radcliffe in six films, was described as a "global icon" to take the second place in the magazine's poll.
---