NBA Finals Game 7: LA Lakers win NBA title beating Celtics 83 - 79
NBA Finals Game 7 goes to the Lakers as they defeated the Boston Celtics to win 16th championship.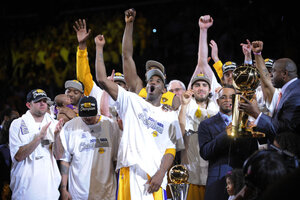 NEWSCOM
Kobe Bryant sprinted after the ball which Lamar Odom joyously flung downcourt to burn the remaining seconds in Game 7 of the NBA finals. While the celebration started behind him, Bryant chased it down and then held it aloft to his teammates.
His legs were dead. The Los Angeles Lakers' 16th championship was secure in a supremely gritty 83-79 victory over the Boston Celtics. And Bryant still wouldn't stop running until the buzzer.
The two-time finals MVP has a ring for every finger on one hand precisely because he never slows down, even with injuries, the Celtics' defense and his own erratic shot conspiring against him. That's why this ring will have a special place in his collection, and this banner in the Staples Center rafters will loom a little larger than the rest to Kobe.
IN PICTURES: Riots in Los Angeles after the NBA finals
"I wanted it so, so bad," Bryant said. "On top of that, I was on E. Man, I was really, really tired, and the more I tried to push, the more it kept getting away from me."
Out of an unsightly 6-for-24 shooting performance, Bryant led the Lakers to a sweet repeat with 23 points and 15 rebounds Thursday night. While he could barely make a shot or even hold onto the ball at times, Bryant relentlessly drove the lane to earn nine free throws in the fourth quarter while Los Angeles erased a 13-point second-half deficit.
The Lakers earned their rings by winning a gritty, grind-it-out Game 7 for the first time in their franchises' history.
---