Travel insurance does not cover oil spill; gooey vacations await
Travel insurance is good for natural disasters but will not cover the BP oil spill because it is manmade.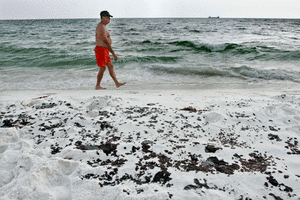 NEWSCOM
Kathryn Calley got an unpleasant surprise when she decided to cancel her Florida beach vacation because of the Gulf of Mexico oil spill. She was told her travel insurance would not cover her air fare.
"I figured that we would be qualified to receive reimbursement or credit for a future flight, as I had purchased a travel protection plan," said Calley, who works in public relations in Dallas, Texas, and had planned a trip with her boyfriend to Pensacola in the Florida panhandle.
"Come to find out, the travel protection plan only covers natural disasters," she said.
IN PICTURES: Gulf oil spill's impact on nature
The oil spill is classified as a manmade disaster, which experts say standard travel insurance does not cover.
"If I was heading for a beach that has globs of oil on it, I would be distressed as well, but it's not a natural disaster. It's a manmade event," said Judy Sutton, director of product management for Travel Insured International.
---