Canada earthquake measures 5.0; shakes Ottawa, Toronto, and U.S.
Canada earthquake: Parliament building in Ottawa evacuated. Workers also left buildings in Toronto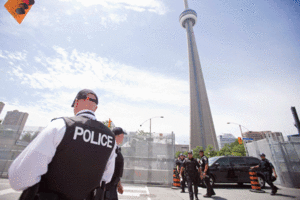 NEWSCOM
A magnitude-5.0 earthquake struck at the Ontario-Quebec border region of Canada on Wednesday, the U.S. Geological Survey said, and homes and businesses were shaken from Canada's capital in Ottawa on south to an arc of U.S. states.
There were no immediate reports of injuries or damage.
Morgan Moschetti, a seismologist with the USGS, said it was not unusual for an earthquake to be felt 300 miles (482 kilometers) from the epicenter and noted that the latest quake was felt in the U.S. from Chicago to Maine.
IN PICTURES: Photos of the Guatemalan sinkhole
Other states that reported feeling tremors were Indiana, Michigan, Ohio, Pennsylvania, West Virginia, Vermont, New Hampshire, New Jersey and New York.
---
Follow Stories Like This
Get the Monitor stories you care about delivered to your inbox.