General McChrystal, Obama conclude talks; McChrystal's future unknown
General McChrystal and President Obama have concluded their meeting. Fate of McChrystal, however, is not known.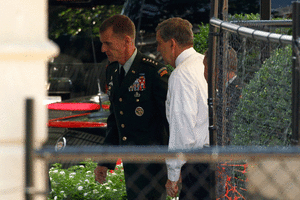 REUTERS
Afghanistan war commander Gen. Stanley McChrystal privately discussed his blistering interview with President Barack Obama Wednesday, but his fate remained unknown as a formal White House war session got under way as planned.
McChrystal was seen leaving the West Wing and climbing into a van after his nearly half-hour showdown with the president. McChrystal had met earlier at the Pentagon with Defense Secretary Robert Gates and Joint Chiefs of Staff chairman Adm. Mike Mullen.
With Washington abuzz over the McChrystal controversy, there was an almost complete lockdown at the White House on information about the morning's developments.
The general was not seen returning to the White House for the Afghanistan strategy session, as he has been expected. And though Obama was expected to make an announcement on McChrystal's future at some point Wednesday, there was no word from presidential aides on when — or if — that would happen.
Before the White House meeting, two military officials said McChrystal went in prepared to submit his resignation. They spoke on condition of anonymity because they were not authorized to speak publicly.
---