Willie Nelson and Tupac in the Library of Congress?
Willie Nelson, Tupac Shakur, and Creole Jazz were included by the Library of Congress's National Recording Registry, highlighting 'diverse beauty, humanity and artistry" of the American soundscape.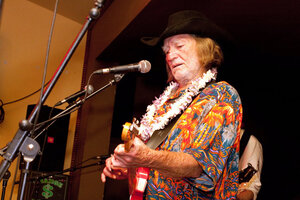 Jessica Pearl/AP
Rapper Tupac Shakur's song "Dear Mama," Bill Cosby's second comedy album and rare battle sounds from World War II are among 25 recordings the Library of Congress is preserving for their cultural significance.
Selections for the 2009 National Recording Registry are being announced Wednesday. They must be at least 10 years old and be culturally, historically or aesthetically significant.
The combination of Cosby — an outspoken critic of profanity and violence in hip-hop culture — with work from a rapper who was shot and killed in 1996 is notable, but organizers said Tupac's "Dear Mama" was a heartfelt homage to mothers struggling with addiction and poverty.
It's also a "relatively tame" recording, and the cultural impact of hip-hop is undeniable, program coordinator Steve Leggett said. Tupac is the third rapper inducted, following Grandmaster Flash and Public Enemy.
In announcing the registry, Librarian of Congress James Billington said the list "showcases the diverse beauty, humanity and artistry found in the American soundscape."
The new additions include performances by Little Richard, Willie Nelson, REM, Patti Smith and the 1923 recording "Canal Street Blues" by King Oliver's Creole Jazz Band for epitomizing the sound of New Orleans.
Organizers chose Cosby's second album, "I Started Out as a Child," over his first simply because they thought it was better overall, Leggett said.
The World War II recording is from the second Battle of Guam in which the U.S. forces retook the island from the Japanese.
Nominations come from a Library of Congress preservation board and online suggestions from the public. The selections for 2009 bring the registry's total to 300.
The 2009 additions to the registry in chronological order are:
— "Fon der Choope" (From the Wedding), Abe Elenkrig's Yidishe Orchestra (1913)
— "Canal Street Blues,"King Oliver's Creole Jazz Band (1923)
— "Tristan und Isolde," Metropolitan Opera, featuring Kirsten Flagstad and Lauritz Melchior, NBC Broadcast of March 9, 1935
— "When You Wish Upon a Star," Cliff Edwards (recorded, 1938; released, 1940)
— "America's Town Meeting of the Air: Should Our Ships Convoy Materials to England?"(May 8, 1941)
— The Library of Congress Marine Corps Combat Field Recording Collection, Second Battle of Guam (July 20 - August 11, 1944)
— "Evangeline Special" and "Love Bridge Waltz," Iry LeJeune (1948)
— "The Little Engine That Could," narrated by Paul Wing (1949)
— Leon Metcalf Collection of recordings of the First People of Western Washington State (1950-1954)
— "Tutti Frutti," Little Richard (1955)
— "Smokestack Lightning," Howlin' Wolf (1956)
— "Gypsy," original cast recording (1959)
— The Complete Village Vanguard Recordings, Bill Evans Trio (June 25, 1961)
— "Daisy Bell (Bicycle Built for Two)," Max Mathews (1961)
— "I Started Out As a Child," Bill Cosby (1964)
— "Azucar Pa Ti," Eddie Palmieri (1965)
— "Today!," Mississippi John Hurt (1966))
— "Silver Apples of the Moon," Morton Subotnick (1967)
— "Soul Folk in Action," The Staple Singers (1968)
— "The Band," The Band (1969)
— "Coal Miner's Daughter," Loretta Lynn (1970)
— "Red Headed Stranger," Willie Nelson (1975)
— "Horses," Patti Smith (1975)
— "Radio Free Europe" R.E.M. (1981))
— "Dear Mama," Tupac Shakur (1995)
RELATED:
---
Follow Stories Like This
Get the Monitor stories you care about delivered to your inbox.