Michael Jackson fans get ready for Michael Jackson memorials
Michael Jackson anniversary: Michael Jackson fans across the world remember Michael Jackson on first anniversary of death.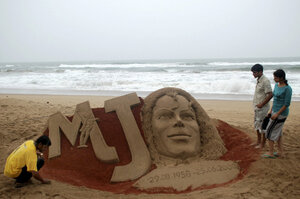 NEWSCOM
As the first anniversary of Michael Jackson's death drew near, Julia Thomas clutched her "Thriller" liner notes and stood outside the Forest Lawn cemetery in Glendale, Calif., the final resting place for the King of Pop, with about two dozen other fans.
"Michael has just always been a part of my life," the 40-year-old Thomas, who has a tattoo of Jackson'sdancing feet on her left wrist, said Thursday night. "I'm just hoping to embrace the fans from everywhere."
Barricades were already set up at the Los Angeles-area cemetery for the huge throng of fans and some ofJackson's family members expected to arrive on Friday, which marks a year since Jackson died at age 50. Five large wreaths of flowers and dozens of bouquets, drawings and photos of Jackson had been placed outside his private mausoleum.
Evdokia Sofianou, 46, and her 9-year-old daughter, Rebecca, traveled from Athens, Greece, to pay their respects.
"I came because I love Michael very much," Sofianou said. "I came to grieve."
Forest Lawn was to be just one of the many places around the world where Jackson's fans would gather to remember their fallen legend on Friday. But not everyone planned to be grieving.
On Friday, DJ Jon Quick was to spin Jackson tunes at the club Taj in Manhattan for a festive affair.
"They wanna celebrate his life and music," Quick said of the expected partygoers. "His albums are like timelines in your life. You can remember what you were doing ... when 'Thriller' came out."
---