Tropical Storm Alex heads toward the Gulf of Mexico
Tropical Storm Alex is on its way to the Gulf of Mexico. Tropical Storm Alex has already forced hundreds to leave resort islands.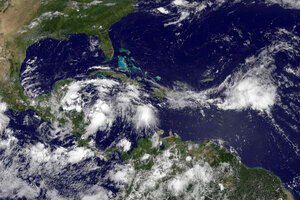 NEWSCOM
Tropical Storm Alex headed toward the Gulf of Mexico on Sunday, but not before drenching Belize, northern Guatemala and Mexico's Yucatan Peninsula with torrential rains and forcing hundreds of tourists to flee resort islands.
Meteorologists project Alex, which hit Belize's coast late Saturday, will weaken as it passes over the Yucatan Peninsula but will regain strength once it emerges Sunday afternoon over the Gulf of Mexico, where warm waters could fuel its growth into a hurricane.
According to the most recent predictions, Alex is expected to make a second landfall midweek on the Mexican Gulf coast — far south and west of where a deep-sea oil spill is slicking the U.S. coastline.
Hundreds of tourists and residents fled low-lying islands off Belize on Saturday as Alex swept in with torrential downpours. Winds were at 60 mph (95 kph) when the storm made landfall but decreased to about 40 mph (65 kph) by Sunday morning.
Belize officials opened storm shelters in the island tourist resort of San Pedro, as some 1,400 people fled for the mainland by plane and by boat.
---