Summer camps for Gaza children targeted by extremists
Summer camps are being targeted for vandalism in Gaza. Early Monday, two dozen masked men destroyed toys and tents at a UN summer camp for children, in the second such attack in just over a month.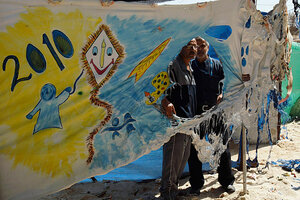 Ibraheem Abu Mustafa/Reuters
Two dozen masked men vandalized a U.N. summer camp for children in Gaza early Monday, burning and slashing tents, toys and a plastic swimming pool. It was the second such attack in just over a month.
There was no immediate claim of responsibility for the attack, which took place before dawn when no children were present.
Islamic extremists have accused the main U.N. aid agency here of corrupting Gaza's youth with its summer program of games, sports and human rights lessons for 250,000 children.
The U.N.'s main competitor in running summer camps is the ruling Islamic militant Hamas, which says it reaches some 100,000 children. The Hamas camps teach Islam and military-style marching, along with swimming and horseback riding.
In a statement on Monday's attack, the U.N. said that about two dozen armed and masked men targeted a seaside day camp in central Gaza, one of dozens of U.N. sites across the Palestinian territory.
The assailants arrived at about 2:30 a.m., tied up four unarmed guards, then tried to set fire to two tents and a perimeter fence made from tarp-like material. Wielding knives, they slashed a plastic swimming pool, an inflatable slide and toys.
Hamas condemned the attack in a statement by the Gaza police and said it would be investigated.
John Ging, the local U.N. chief, called it a "cowardly and despicable" attack and said the site would be rebuilt quickly. The about 2,000 children who attend the targeted facility joined another camp and will remain there until theirs is rebuilt, U.N. officials said.
Ging said the attack was the latest sign of growing levels of extremism in Gaza. He said it provides further evidence "of the urgency to change the circumstances on the ground that are generating such extremism."
---