Hurricane Alex (soon to be named) halts skimming operations off Gulf Coast
Hurricane Alex (expected to be named) has churned up rough seas and powerful winds enough to halt oil-skimming operations in the Gulf of Mexico.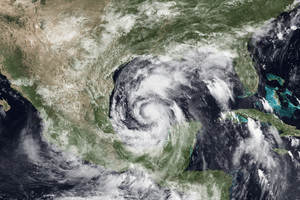 NEWSCOM
BP and the Coast Guard sent oil-scooping skimming ships in the Gulf of Mexico back to shore Tuesday because nasty weather from Tropical Storm Alex churned up rough seas and powerful winds.
U.S. Coast Guard Lt. Dave French said all efforts had been halted for now off the Louisiana coast. Efforts also had been halted off the coasts of Florida, Alabama and Mississippi.
French said workers were using the time off the water to replenish supplies and perform maintenance work on equipment.
"We're ready to go as soon as conditions allow us to get those people back out and fighting this oil spill," French said.
The loss of skimming work combined with 25 mph gusts driving water into the coast has left beaches especially vulnerable. In Alabama, the normally white beaches were streaked with long lines of oil, and tar balls collected on the sand. One swath of beach 40 feet wide was stained brown and mottled with globs of oil matted together.
Tropical Storm Alex was projected to stay well away from the spill zone before possibly making landfall as a hurricane as early as Wednesday just south of the U.S.-Mexico border. But its outer edges were causing problems out in the Gulf.
---