LeBron James meets with Knicks and Nets as free agency tips off
LeBron James on the first day of his free agency met with the New York Knicks and the New Jersey Nets. The Miami Heat, Los Angeles Clippers, Chicago Bulls and the Cleveland Cavaliers are also expected to make pitches to LeBron James in the coming days.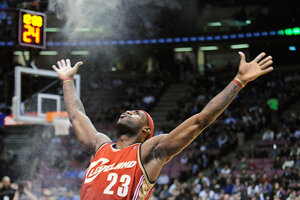 Bill Kostroun/AP/FILE
The pursuit of LeBron James, the biggest name in this year's class of NBA free agents, began with double-barrel urgency on Thursday as a pair of teams made their pitch to the six-times All-Star.
Both the New Jersey Nets and New York Knicks met with the two-times league MVP in Cleveland on the first day of the most highly anticipated free-agent signing period ever.
Dozens of other players, including Dwyane Wade and Chris Bosh, were also being courted in a players' open market that could dramatically change the league's landscape.
Nets billionaire owner Mikhail Prokhorov, part-owner and American rapper Jay-Z and coach Avery Johnson led New Jersey's contingent, according media reports.
For the Knicks, owner James Dolan and coach Mike D'Antoni were among the team officials who met with James in the offices of his marketing company.
At least four other teams are expected to make pitches to James in the coming days.
---