Toyota hopes to spend more time developing vehicles, less time recalling them
Toyota announced Wednesday that it would be adding about four weeks to the time it spends developing new vehicles, so that it can conduct more quality checks before introducing them to the public.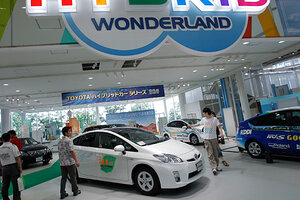 Itsuo Inouye/AP
Toyota Motor Corp. is extending the time it takes to develop new vehicles by about four weeks for more quality checks in the wake of its massive safety-related recalls, a top executive said Wednesday.
Executive Vice President Takeshi Uchiyamada said the company has learned a lot from its recalls of more than 8.5 million vehicles worldwide, including the need to slow the pace at which it develops new cars.
It currently takes Toyota about 24 months on average to bring a new vehicle to market in Japan, Uchiyamada said. The time varies somewhat in other markets, including the U.S.
IN PICTURES: Major product recalls
Uchiyamada, one of Toyota's highest-ranking officials who is considered the father of the automaker's popular Prius hybrid, made the remarks during a press event with U.S. media at the company's headquarters in its namesake city in central Japan.
Toyota has been reeling after its recalls, which bruised its vaunted reputation for quality and dented its market share in the U.S., its biggest market. The company's largest recalls stemmed from unintended acceleration related to faulty gas pedals and floor mats. In recent months, the automaker has recalled hundreds of thousands of other vehicles, including a recall announced Monday to fix an engine problem in its Lexus luxury cars that could cause stalling.
---