Church of England considering women bishops
Church of England leaders have opened a five-day meeting Friday that will discuss whether women can become bishops.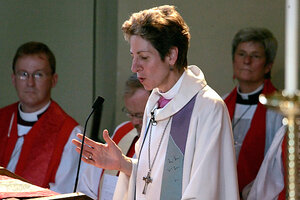 Bob Child/AP
The Church of England's governing body opened a five-day meeting Friday dominated by debate over the roles of women bishops.
The church has scheduled 15 hours of discussion during the meeting in York on a subject that has angered traditional Anglicans who believe that allowing women to be bishops is contrary to the Bible. They want a structure that guarantees they will be supervised by male bishops and led by male priests who were not ordained by a female bishop.
The church began ordaining women to the priesthood in 1994, and the governing General Synod has for the past five years been trying to smooth the way for women to become bishops. Church officials say that it will be 2014 at the earliest before any woman is elevated to bishop.
Advocates for women bishops say they should serve on the same basis as men do now, without restrictions on their authority.
"When will the Church of England accept that to set up structures that implicitly infer that some people are less a child of God than others is just poor theology and a stumbling block to our proclamation of the gospel?" asked the Rev. Lindsay Southern, a member of the National Committee of Women and The Church, in a June 22 letter to archbishops.
But, opponents of women bishops say they were assured that their points of view would be protected when the church voted in 1992 to allow women to become priests.
"It seems to us a matter of simple integrity that Synod should now keep its word to us in this and not force us down a road none of us wish to tread," the Rev. Rod Thomas, chairman of the evangelical group Reform, said in a letter to bishops in May.
---