'Ndrangheta mafia structure revealed as Italian police nab 300 alleged mobsters
'Ndrangheta mafia top bosses were seized in the sweeping crackdown, say Italian police.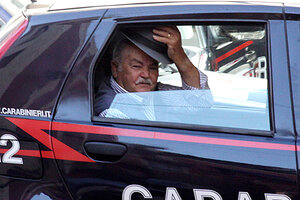 Adriana Sapone/AP
Anti-mafia prosecutors claimed a major victory over the powerful and growing 'ndrangheta crime syndicate, infiltrating intimate weddings, baptisms and other gatherings to gather information that led to the arrests Friday of 305 people, including top bosses, and the seizure of more than €60 million in cash and property.
One of the most significant revelations to emerge from the investigation was that the Calabrian mob had a tight hierarchal structure like that of the Sicilian Mafia, and wasn't just an association of clans as previously believed. While expanding its economic reach into the wealthy Lombard region in northern Italy, the 'ndrangheta (en-DRAN-geh-tah) is also concentrating its power in its native Calabria, exerting tight control over all strategic decision-making, anti-mafia prosecutors said.
The operation began before dawn with the 4 a.m. arrest of Domenico Oppedisano, the crime group's top boss, in the small coastal town of Rosarno in Calabria.
But the investigation owed its success to investigators' ability to infiltrate events like the 2009 wedding of the children of two crime bosses in Calabria, attended by thousands of well-wishers, where Oppedisano was named to his post, said Calabrian anti-mafia prosecutor Giuseppe Pignatone.
When Oppedisano was formally elevated some two weeks later, on September 2, the feast of Madonna Polsi, undercover agents got video of the crime syndicate's major bosses all being confirmed in their new positions in the structure, he said.
"Police and carabinieri have been able to record since Aug. 1, 2009 all of the major negotiations of the various families," Pignatone told a news conference.
---