Gay marriage in DC cannot be put to a vote, court rules
Gay marriage cannot be overturned by a ballot initiative, ruled the District of Columbia's highest court Thursday.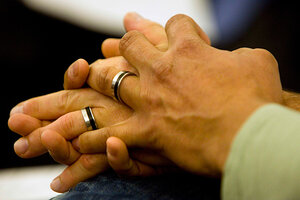 Jacquelyn Martin/AP
D.C.'s highest court has ruled against opponents of the city's same sex-marriage law, saying they cannot ask voters to overturn it.
Opponents had wanted to challenge a law that went into effect in Washington in March allowing same-sex couples to wed. They attempted to get approval to put an initiative on the ballot asking city voters to define marriage in the city as between one man and one woman. But city officials balked, saying the initiative authorized discrimination and that putting it on the ballot would violate a district human rights law.
On Thursday, the D.C. Court of Appeals ruled 5-4 that officials had the authority to keep the measure off the ballot and acted appropriately in barring it. The decision upheld a lower court's ruling.
An attorney for the group asking for the initiative, Austin Nimocks of the Alliance Defense Fund, said in a statement that the decision means district residents "are being denied their most fundamental freedom — the right to vote." Nimocks said the group is considering an appeal to the U.S. Supreme Court.
---