Gulf oil spill: BP says well cap may work until permanent plug
It will take months, or possibly years to recover from the Gulf oil spill. But there are signs that people are trying to get life – or at least a small part of it – back to normal.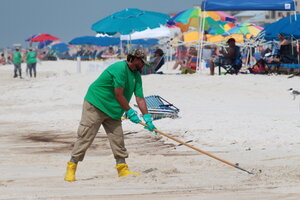 Dave Martin/AP
BP hopes to keep using its giant stopper to block oil from reaching the Gulf of Mexico until they plug the blown out well permanently, the company said Sunday.
"No one associated with this whole activity … wants to see any more oil flow into the Gulf of Mexico," said Doug Suttles, BP's chief operating officer. "Right now we don't have a target to return the well to flow."
The government's point man for the disaster, retired U.S. Coast Guard Adm. Thad Allen, outlined a different plan on Saturday, saying that after the test was complete, the cap would be hooked up through nearly a mile of pipes stretching to ships on the surface that will collect the oil.
IN PICTURES: The Gulf oil spill's impact on nature
But that would mean oil would have to be released back into the Gulf for three days to release pressure from the well, Suttles said. The oil giant hopes to instead keep the oil shut in until its permanent plug measure is completed, although Suttles said BP was taking it day by day.
It wasn't immediately clear if the plan had changed, or if BP and the government disagreed about the next move. Allen will make the ultimate decision.
Both Allen and BP have said they don't know how long the trial run – initially set to end Saturday – will continue. Allen has extended it to Sunday afternoon, and could extend it again.
Has the oil been depleted?
Unimpeded, the well spewed as much as 2.5 million gallons a day, according to the government's worst-case estimates. It's possible the oil has been depleted, and that's why pressure readings from the cap have been lower than anticipated, BP has said.
---