Caravaggio painting of man being barbecued possibly found in Rome
Caravaggio scholars are working to authenticate a painting of St. Lawrence's martyrdom, which has features typical of Caravaggio's style, the Vatican newspaper has reported. Caravaggio or not, the painting is quite good, say art historians.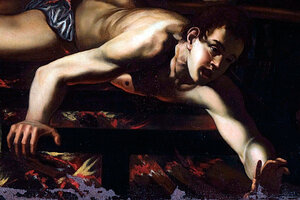 Zeno Colantoni/Osservatore Romano/REUTERS
The Vatican newspaper reported Saturday that a new Caravaggio painting may have been found in Rome, but cautioned that further analyses are required before it can be attributed for certain to the Italian master.
The front-page story in L'Osservatore Romano came out as Italy celebrates the 400th anniversary of Caravaggio's death. This weekend, churches and a gallery in Rome housing works by the painter will stay open overnight to mark the anniversary.
The painting in question depicts "The Martyrdom of St. Lawrence" and belongs to the Jesuits in Rome, the paper said. It did not say where the painting was being studied or who was examining it.
IN PICTURES: Famous art heists
An image of the work published above the headline "A New Caravaggio" shows a semi-naked young man, his mouth open in desperation, one arm stretched out as he leans over amid flames.
"It is up to further analyses and an in-depth documentary, stylistic and critical examination to provide us with answers," L'Osservatore Romano said.
"What is certain is that the painting is stylistically impeccable," it said in the article, written by art historian Lydia Salviucci Insolera.
---
Follow Stories Like This
Get the Monitor stories you care about delivered to your inbox.