Halliburton shows surge in profits despite connection to Gulf oil spill
Halliburton Co., which was handling the cementing job on BP's Macondo well before it blew up, saw its second-quarter profits jump 83 percent, beating Wall Street expectations.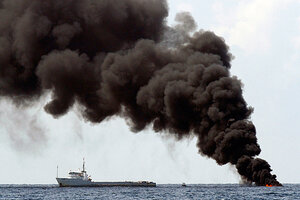 Patrick Semansky/AP
Halliburton Co. said energy companies have become so aggressive about exploring for natural gas in the U.S. that its land-based drilling business will make up for a suspension of deepwater drilling in the Gulf of Mexico.
The Houston petroleum services company on Monday reported an 83-percent surge in second-quarter profits. The results beat Wall Street expectations, and shares rose more than 5 percent.
Halliburton is the first of several companies connected to the Gulf oil spill to report second-quarter financial results. The company was handling the cementing job on BP's Macondo well before it blew up on April 20.
IN PICTURES: The Gulf oil spill's impact on nature
The government's moratorium on deepwater exploration in the Gulf "will usher in a new regulatory climate and will have a profound impact on how deepwater drilling is performed," Halliburton's CEO Dave Lesar said in a conference call with investors.
Lesar said that drilling activity throughout the Gulf will slow down this year as drilling permits receive more scrutiny from government regulators. A few deepwater rigs have already left the Gulf for work in international waters. Lesar doesn't expect them to return "for some time, if at all."
---