Comic-Con attendees dazzled by 'Tron,' 'Harry Potter,' and 'Avengers' teasers
Comic-Con, the sci-fi and fantasy themed convention in San Diego, was a four-day extravaganza of light cycles, wizards, and superheroes.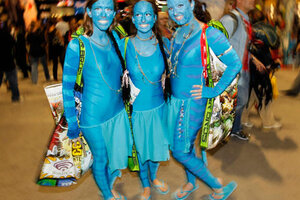 Mike Blake/Reuters
Light cycles, wizards, vampires and superheroes made for another colorful Comic-Con.
San Diego's annual pop-culture convention wrapped up Sunday after four days of comic books, costumes, celebrity appearances and TV and movie previews.
A new take on "Tron," the latest "Harry Potter" film, HBO's "True Blood" and Marvel's "The Avengers" were among the highlights of the 41st annual festival.
IN PICTURES: It's not Halloween, it's Comic Con
More than 120,000 fans attended the sold-out event at the San Diego Convention Center. They came for the toys and collectibles, the people-watching and a chance to see early footage from anticipated films.
"I was just focusing on 'Tron,'" said Michael Faustino, 28, who has been coming to Comic-Con since 2004. He also picked up some Tron and G.I. Joe toys.
---