China floods leave 30,000 trapped
China floods caused by heavy rains have left 30,000 trapped in their homes.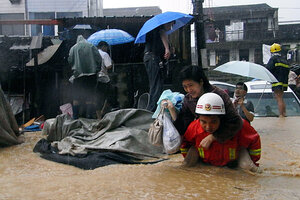 Cheng Min/Xinhua/AP/File
Floods caused by heavy rains in northeastern China stranded tens of thousands of residents without power Wednesday, as the worst flooding in more than a decade continued to besiege many areas of the country.
Floods this year have killed at least 928 people with 477 missing and caused tens of billions of dollars in damage, the State Flood Control and Drought Prevention office reported. More heavy rains were expected for the southeast, southwest and northeast parts of the country through Thursday.
About 30,000 residents in Kouqian town were trapped in their homes after torrential rains drenched the northeastern province of Jilin on Wednesday, the official Xinhua News Agency reported. Water began flooding the town after the nearby Xingshan Reservoir and the Wende and Songhua rivers overflowed and rescue crews were delivering supplies by boat and moving people to higher ground, state television reported.
Flooding has hit areas all over China. Thousands of workers sandbagged riverbanks and checked reservoirs in preparation for potential floods expected to flow from the swollen Yangtze and Han rivers, an official with the Yangtze Water Resources Commission said Wednesday. He gave only his surname, Zhang, as is common with Chinese officials.
"Right now, the Han river in Hubei province is on the verge breaching warning levels," Zhang said.
The Han is expected to rise this week to its highest level in two decades, Xinhua reported. The flood threat was greater than usual because the Yangtze, into which the Han flows, was also reaching peak levels, it said.
Workers were prepared to blast holes in the Han embankment to divert flood waters into a low-lying area of farms and fish ponds, from which more than 5,000 people were evacuated, Xinhua said.
---