Papahanaumokuakea Marine National Monument named UN World Heritage site
Papahanaumokuakea Marine National Monument, an underwater preserve encompassing 140,000 square miles of ocean waters and 10 islands and atolls of the northwestern Hawaiian island, has been selected by UNESCO as a UN World Heritage Site.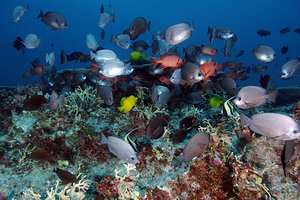 Papahanaumokuakea Marine National Monument/Louiz Rocha/AP/File )
The Papahanaumokuakea Marine National Monument — a pristine haven for coral and other marine life, and a treasured site of ancient Hawaiian shrines — has been named a United Nations World Heritage site.
The area northwest of the main Hawaiian islands is the only US location to make the list for both natural and cultural reasons, said monument spokesman Dan Dennison.
The World Heritage Committee of the United Nations Educational, Scientific and Cultural Organization, or UNESCO, made the decision at a meeting in Brazil, Dennison said.
IN PICTURES: The 20 weirdest fish in the ocean
The committee aims to identify sites "considered to be of outstanding value to humanity" and encourages their protection and preservation. There are currently about 890 sites around the world on the list.
The State Department said the monument is the first US site to be added in 15 years. The Grand Canyon, the Statue of Liberty and Hawaii Volcanoes National Park are among 20 US sites already recognized.
Papahanaumokuakea consists of remote, mostly uninhabited atolls northwest of the main Hawaiian Islands and the waters surrounding them.
It's home to 69 percent of the coral reefs in US territory. It also hosts 7,000 marine species, a quarter of which are found only in Hawaii. The area is off-limits to fishing, allowing for healthy and abundant populations of sharks, ulua or jackfish, and other marine life.
---