Interest rates will likely remain at historic lows
Interest rates are likely to be left untouched at the Federal Reserve's meeting this week, but its unclear whether the Fed will restart some of its stimulus programs.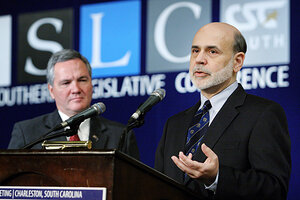 Grace Beahm/The Post and Courier/AP
Stocks edged higher Monday as investors avoided big bets before the Federal Reserve's meeting this week.
The Dow Jones industrial average rose 6 points in early morning trading. Broader indexes were mixed.
Investors are waiting for the Fed's latest assessment of the economy that will be issued at the close of the central bank's meeting on Tuesday. They also want to know if the Fed will restart some of its stimulus programs to help the recovery regain momentum.
The market's growing concern about the economy has added to the importance of the Fed meeting. Recent economic reports have shown that the recovery is slowing. And Fed Chairman Ben Bernanke just a few weeks ago said the forecast for the recovery remains "unusually uncertain."
The Fed will likely leave interest rates at historic lows, but could signal plans to restart some stimulus programs, such as its purchase of mortgage-backed securities. Those programs ended earlier this year when it appeared the recovery was proceeding well. The Fed could say Tuesday that it is ready to start new programs to encourage bank lending even if it doesn't implement them immediately.
Hewlett-Packard Co. shares sank Monday after its CEO was forced to resign Friday. However, the company's problems didn't appear to be affecting the rest of the market.
McDonald's Corp. rose after it reported strong July sales, including its biggest jump in U.S. sales in more than a year.
---