Craigslist killer suspect Philip Markoff found dead
Craigslist killer suspect Philip Markoff was found dead in a jail cell where he was awaiting trial, say Massachusetts authorities. Police suspect Markoff committed suicide. The 2009 murder case prompted Craiglist to examine its policy toward posting erotic photos and ads for prostitution.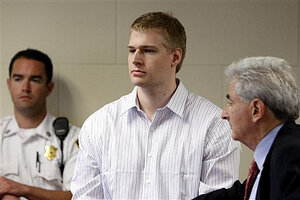 AP Photo/Bizuayehu Tesfaye, Pool, File
A former medical student accused of killing a masseuse he met through Craigslist committed suicide in the Boston jail where he was awaiting trial, authorities said Sunday.
Philip Markoff, 24, was found unresponsive in his cell Sunday morning in the Nashua Street Jail, the Suffolk County district attorney's office said in an e-mailed statement, and he was pronounced dead at about 10:15 a.m.
"Markoff was alone in his cell, and all evidence collected thus far indicates that he took his own life," the statement said.
Authorities will investigate to determine the facts and circumstances surrounding his death, the district attorney said.
Saturday would have been Markoff's first wedding anniversary, but his nuptials were canceled after his arrest.
Markoff, a former Boston University student, pleaded not guilty in the fatal shooting of Julissa Brisman, of New York City, and the armed robbery of a Las Vegas woman. Both crimes happened at Boston hotels within the span of four days in April 2009. Rhode Island prosecutors also accused him of attacking a stripper that week.
---