Chile: miners alive but rescue may be months away
Chile's miners are alive, all 33 of them, after 17 days trapped in a collapsed mine. "Today all of Chile is crying with excitement and joy," President Sebastian Pinera said. But it may be until Christmas before the trapped miners can be rescued.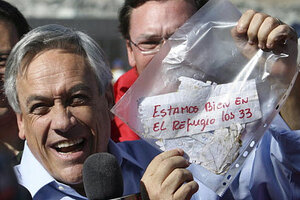 AP/Hector Retamal
For 33 men found alive after 17 days trapped deep in a copper and gold mine, the toughest challenge now may be preserving their sanity during the months it may take to carve a tunnel big enough for them to get out.
Chileans were euphoric Sunday after a narrow drill broke through 2,257 feet (688 meters) of solid rock to reach an emergency refuge where the miners had gathered. The trapped men quickly tied two notes to the end of a probe that rescuers pulled to the surface, announcing in big red letters: "All 33 of us are fine in the shelter."
"Today all of Chile is crying with excitement and joy," President Sebastian Pinera said at the mine.
And where many were beginning to give up hope, the scene above ground became a celebration Sunday night, with a barbecue for the miners' families, roving musicians, lit candles and Chilean flags making the barren landscape seem festive.
IN PICTURES: Chile mine collapse
But rescuers said it could take as long as four months ó until around Christmas ó to carve a second shaft some 27 inches (68 centimeters) in diameter, wide enough for the miners to be pulled up one by one.
The men already have been trapped underground longer than all but a few miners rescued in recent history. Last year, three miners survived 25 days trapped in a flooded mine in southern China, and two miners in northeastern China were rescued after 23 days in 1983. Few other rescues have taken more than two weeks.
---
Follow Stories Like This
Get the Monitor stories you care about delivered to your inbox.