Hurricane Danielle gains strength in the Atlantic
Hurricane Danielle grew from a tropical storm into a Category 2 hurricane overnight, with sustained winds of more than 100 p.m.h. according the the National Hurricane Center. Hurricane Danielle was 1,110 miles east of the Lesser Antilles, moving toward Bermuda.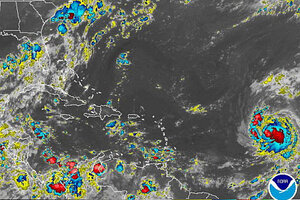 NOAA/AP
**UPDATE: Hurricane Danielle has weakened as of 11 a.m. Tuesday morning, according to the National Hurricane Center.***
Hurricane Danielle strengthened over the Atlantic Ocean Tuesday but posed no threat to land or energy interests, the U.S. National Hurricane Center said.
Danielle was 1,110 miles east of the Lesser Antilles and was moving west at 20 miles per hour toward Bermuda.
It carried top sustained winds of 100 miles per hour making it a Category 2 hurricane on the Saffir-Simpson intensity scale.
Danielle was forecast to become a "major" hurricane by early Wednesday when its winds were expected to reach at least 111 miles per hour.
But computer models showed Danielle curving to the northwest on a path that would keep it over open seas without threatening land.
---
Follow Stories Like This
Get the Monitor stories you care about delivered to your inbox.