Stink bugs expected to invade W.Va. homes this fall
Stink bugs aren't harmful to human health, but they can give off an unpleasant odor.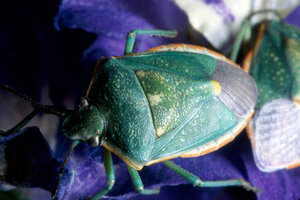 Newscom
The state Department of Agriculture is warning of a pest that may invade West Virginia homes this winter.
The Brown Marmorated Stinkbug is joining the Asian Lady Beetle on the list of unwanted house guests.
The nonnative bug isn't harmful to human health, but it can give off an unpleasant odor.
Officials say the best way to keep the stinkbug out of your house is to use caulking, weather stripping and other measures to close cracks and other openings to the outside.
The agency says chemical sprays designed to block invading pests also work. Spraying should be done in early October to keep the bugs at bay.
Officials believe the stinkbug was transported to the U.S. in packing crates from Asia. It was first reported in 2001 in Allentown, Pa.
IN PICTURES: Beetle mania: Fascinating beetles around the world
---
Follow Stories Like This
Get the Monitor stories you care about delivered to your inbox.