Bloggers can make money, but most keep day jobs
The rise of 'contextual advertising' has created a 21st-century version of royalties.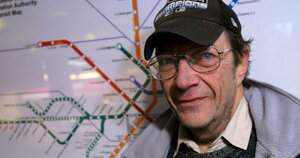 MARY KNOX MERRILL - STAFF
A penny for your thoughts? Kevin Vahey has done a good deal better, turning a personal gripe into $1,000 a year of supplemental income.
Mr. Vahey started a blog called " Charlie on the MBTA" that has become a sounding board for Bostonians frustrated with the city's public-transit system.
After two months, he's gained 1,200 readers a day, the attention of officials, and – like thousands of others putting their interests online – a small revenue stream from advertising. "Yesterday I got the check from [Google], and I said, 'Hmm, that's cool.' I don't feel like I did anything," he says. He's not quitting his day job, but now he commutes to it free of charge: "[The blog] pays my monthly pass."
Through systems like Google's AdSense, advertising now can be added with the click of a mouse to the smallest of websites. The model will soon be expanded to online videos with the announcement last month that YouTube will share ad revenue with content creators.
The rise of what's known as contextual advertising has created a 21st-century version of royalties that's reaching deep into the ranks of amateurs and hobbyists. It points to a future where many people will moonlight online as small-time creators for a little extra income, with a few finding fame and fortune along the way.
---