Silicon Valley's next big thing: 'clean tech'
Engineers aim to transform solar, fuel-cell, and biofuel projects into viable industries.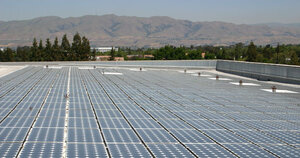 Ben Arnoldy
Microchips? Been there. Software? Done that. Dotcoms? Soooo 20th century. Now, Silicon Valley is looking to become clean and green – and it could turn into the region's next big high-tech push.
Its new focus: so-called "clean technology" – technology that uses natural resources more efficiently or not at all, thereby reducing the environmental impact of products and cutting costs.
Most of Silicon Valley's current emphasis is on clean energy. Entrepreneurs here are aiming to transform solar, fuel-cell, and biofuel projects into viable industries with huge potential. Already, the market amounts to $55 billion – more than the entire Internet advertising market dominated by the high-tech region's current darling, Google. In 10 years, the clean-energy market by one estimate could quadruple. In the past year, for the first time, more silicon in the US has gone toward making solar panels than computer chips. More important, venture capitalists are pouring money into clean technology, thanks to a confluence of events.
"We have an energy crisis, there's a national security crisis, and there's a climate-change crisis. And as a famous economist once said, 'A crisis is a terrible thing to waste,' " says Vinod Khosla, a top venture capitalist.
Twenty-five years ago, he cofounded Sun Microsystems. Now, he is funding dozens of clean-tech companies, everything from Altra, a biofuels firm, to LivingHomes, a home-building company that uses eco-friendly materials and the efficiency of prefabricated construction.
"Clearly this is a very important area, and a much larger market than the Valley has traditionally dealt with," he says.
---