A secret to improving cargo ship efficiency: Go fly a kite
Designers look to giant kites, bubbles, and new propellers to save on fuel costs and reduce pollution.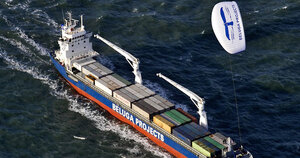 Hero Lang/AFP/Getty Images
When the cargo ship Beluga SkySails left the port of Bremen, Germany, in January, it carried with it a high-tech version of an ancient means of propulsion.
During its 11,952-nautical-mile voyage to Venezuela and back, the ship launched a giant kite from its bow, sending it hundreds of feet into the air to capture the stronger and more consistent winds found above. The 1,720-square-foot kite, controlled by onboard electronics, exerted enough pull on the ship to provide about 20 percent of the engine power required for the journey.
"We can once again actually 'sail' with cargo ships, thus opening a new chapter in the history of commercial shipping," said Capt. Lutz Heldt following his return.
Larger, more powerful kites are planned for the future. Savings of 10 to 35 percent will be possible, depending on specific routes and weather conditions, says Stephen Wrage, founder and CEO of SkySails, a company in Hamburg, Germany, that makes the kites. It is planning to equip as many as 35 ships with its kites in 2009 and hopes to increase that to 1,500 ships by 2015.
From kites to new propeller designs to blasting air bubbles along hulls to make them slicker, ways to make ships more energy-efficient have been gaining momentum. The reasons aren't surprising: Fuel costs have ballooned and public pressure to reduce the air pollution and greenhouse gases that ships emit has increased.
A scientific paper published in November showed that ship emissions result in about 60,000 additional deaths per year worldwide from air-pollution-related illnesses.
---