What is FriendFeed? And why it's better than ever.
Column: New design reminds web users of the need for an aggregator of social-networking sites.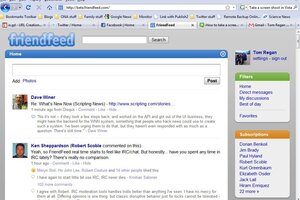 Tom Regan
The problem with social networking these days is that there is just too much of it. You can tweet on Twitter, post photos on Flickr, gossip on Facebook, or rant on your blog. It's no joke that you could spend all day moving back and forth between these options.
That's where FriendFeed comes in. FriendFeed is a social-networking aggregator – a one-stop shop for reading all the posts from your friends, family members, coworkers, former high school flames, etc. You can pull in content from more than 60 different services and websites.
FriendFeed has just renovated the site, making it a much more attractive destination for those who want to do all their social-media "shopping" in one place.
The first thing you'll notice about the new FriendFeed is how much it looks like Twitter. Then again, Facebook's recent redesign made it look a lot more like Twitter, too. I believe that all social networking will one day look and feel the same – the winners and losers will be decided by the special features that are unique to each site.
In the new FriendFeed, the left bar that held site navigation functions is gone, and has been replaced with a snappier version on the right side. The account, log out, and additional links are gone, too.
---