High hopes for high speed
A $13 billion proposal could lay high-speed tracks in the midwest, California, and Florida.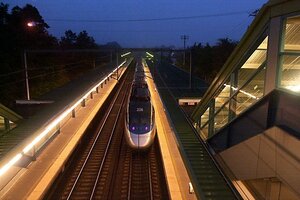 Alfredo Sosa /Staff /File
Would the high-speed rail network proposed by President Obama boost the nation's economy, cool the climate, and bring US transportation into the 21st century? Or is it a boondoggle waiting to happen?
Kyle Spolski has few doubts.
Preparing to board the gleaming steel Acela, the nation's only high-speed train service, the business executive calculates his Boston-to-New York travel costs. Time: about 3-1/2 hours. Cost: $124. Taxi fare: $0. Airport hassle: none.
"I used to fly, but the Acela is faster getting downtown – and I can work in comfort and plug in my computer and cellphone," he says. "It's also about the same cost when you factor in an airport cab ride."
Mr. Spolski's bottom line: "We need more high-speed trains."
And the US may get them. On April 16, Mr. Obama unveiled his vision for a high-speed rail system that would be the most radical shift in US travel infrastructure since President Dwight Eisenhower set the Interstate Highway System in motion.
The rail plan could cost tens of billions of dollars before it's done. But to jump-start the process, the Obama administration proposes using $13 billion ($8 billion from the stimulus fund last fall and $1 billion a year for five years) to fund up to 10 high-speed-rail corridors.
The idea is not to lay tracks coast to coast, but to zero in on densely populated regions such as the Midwest, California, and Florida, where short distances between cities would let fast trains compete with planes and cars.
---