Why are HDMI cables so expensive?
Product researchers find little difference between a $10 and a $140 HDMI cable.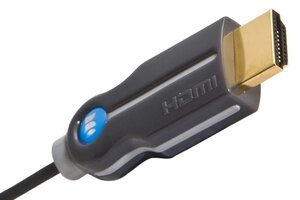 Business Wire
The rules of supply and demand don't apply to cables. A Best Buy in downtown Boston charges $140 for name-brand HDMI cables, which connect high-definition video to big-screen TVs. The Radio Shack a few blocks away wants $50 for its generic version. Online, Amazon will sell you HDMI cables for $5.
Ostensibly, the products are identical. So why the huge disparity in price? Is there a difference between the three products?
Not really.
The prolific review crew at CNET put it more harshly. "Those cables are a rip-off," says the website's guide to HDMI. "You should never pay more than $10 for a standard six-foot HDMI cable."
---