Big boost for Bing in Yahoo-Microsoft pact
But Google remains the Goliath of the $12 billion Internet search business and is likely to stay there for some time.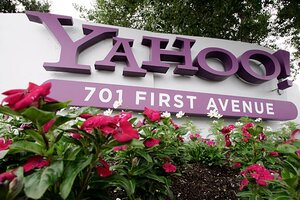 Paul Sakuima/AP
Two months after Bing bounced onto the Internet, Microsoft's rebranded search engine leaped a lot closer on Wednesday morning to posing a serious challenge to the online Goliath Google.
In a deal with Yahoo, Bing will soon become its search provider, gobbling up a huge chunk of Web traffic in one bite. In exchange for letting Microsoft handle Yahoo searches, Yahoo will get 88 percent of the search-generated ad revenue from its sites in the first five years of the 10-year pact.
That could bring in as much as $500 million to the pioneering Internet company that in recent years has been struggling to reposition itself and hand Microsoft Yahoo's 20 percent share of Internet search traffic. Still, the combination of Yahoo (the No. 2 search engine) and Microsoft (No. 3 with 8.4 percent) is a long way from reversing Google's 65 percent share.
The deal promises to be a boon for both companies (if it's approved by federal regulators) as Microsoft wants to pry Internet users away from Google, and Yahoo is interested in focusing on building up its media sites from finance to sports. But so far Microsoft appears to be coming out ahead of this deal connecting Silicon Valley with Redmond, Wash.
While Yahoo Chief Executive Carol Bartz said the pact promises a "boatload of cash," it saw shares drop 8 percent on news of the partnership. Meanwhile, software giant Microsoft saw a slight uptick in the price of its stock.
---