Energy use falls when neighbors compete
A California utility is using smiley faces on customer bills to show how people's usage compares with their neighbors'.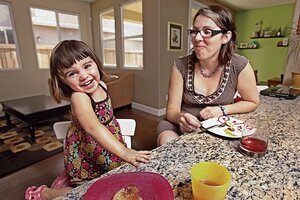 Tony Avelar/The Christian Science Monitor
One of the best ways to save energy and cut carbon emissions isn't the much-touted "smart grid," low-watt light bulbs, or high-tech appliances – it's a little neighborly competition.
Just ask Sacramento resident Kat Kelly, who last year began getting a new "home energy report" from her utility company that compared her family's electricity use directly with her neighbors'.
On the report, one bar chart rated her family's electricity use against the average of 100 neighbors with similar sized houses – and also of her 20 most energy-efficient neighbors. The report had three rating levels: "below average," a smiley face for a "good," or two smileys for a "great!" average.
A self-described "competitive person," Ms. Kelly says she was shocked to learn that her family not only failed to get a smiley, it received a "below average" rating. That same day, she began turning off lights, changing the thermostat, and switching off her power strips – anything to save juice and win future smiley faces.
"It got my competitive spirit going," Kelly says. "I wanted to be one of the
energy conservers in my neighborhood."
Her reaction is not unusual. Some say it's the power of competition – the desire to keep up (or in this case "down") with the Joneses. Others say it's just logical
decisionmaking. Whatever it is, the simple act of informing residents about their neighbors' power use can be like firing a starting gun in a race to save energy, researchers say.
---