Dream of solar sailing in space lives on in new project
The US-based Planetary Society this week announced its second attempt to launch a small spacecraft with sails propelled by sunlight.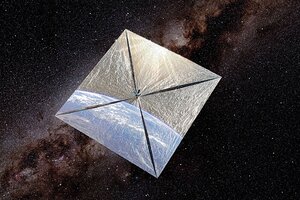 Handout/REUTERS
Its designers call it LightSail-1. And if it works as advertised, the solar sail project would represent a baby step toward humanity's first starship.
This week, the California-based Planetary Society announced a new project to launch a small spacecraft propelled by a solar sail. In principle, the idea is simple: Use the sail to intercept sunlight, which presses on the sail much like wind on canvas. (The same pressure keeps the sun from collapsing under its own gravity.)
Initially a solar-sail craft builds momentum almost imperceptibly. But with no friction in space to resist its motion, the craft in theory should go faster and faster, as long as there is enough light to propel it. It requires little on-board fuel for course corrections, since the sails can be "trimmed" to change course, just as a sailboat's canvas is trimmed.
This is the one known technology that can get up to the speeds as you leave the solar system "that make interstellar flight not completely ridiculous," says Bruce Betts, director of projects for the Planetary Society, which is undertaking the $2 million demonstration effort.
First, however, the craft needs to reach space – the toughest part of any solar-sail project.
---