Behind the mask of Kim Dotcom
Now on house arrest in New Zealand, Megaupload creator Kim Dotcom awaits trial – all while prosecutors fight to bring him to the US. Looking back at Dotcom's exorbitant lifestyle and willingness to break the rules, it's no surprise that he's made so many enemies.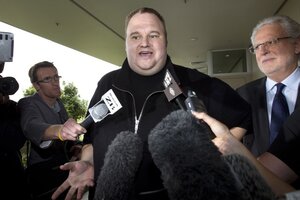 Brett Phibbs/AP
On his way up, he fooled them all: judges, journalists, investors and companies.
Then the man who renamed himself Kim Dotcom finally did it. With an outsized ego and an eye for get-rich schemes, he parlayed his modest computing skills into an empire, becoming the fabulously wealthy computer maverick he had long claimed to be.
Now his wild ride may be over. Last month he was arrested in New Zealand for allegedly facilitating millions of illegal downloads of songs and movies through Megaupload, his once-popular website, now an important focus of the entertainment industry's war on online piracy.
U.S. prosecutors are seeking the 38-year-old German's extradition in what they say could be one of the largest copyright cases in history. Dotcom, who denies the charges, was freed on bail Wednesday after a month in jail, and authorities have seized, among other things, his twin giant TV sets, massive statue of the "Predator" movie monster and Rolls-Royce (vanity plate: GOD).
His story is one of breathtaking audacity that spans both the globe and the modern computing era. Interviews conducted by The Associated Press and a review of court documents and other records indicate that Dotcom was able to create a legendary past, trade upon it by manipulating the news media and avoid serious consequences when he broke the law.
Dotcom makes for a larger-than-life defendant in almost every respect: U.S. court papers describe him as about 1.95 meters (6 feet, 5 inches) tall and weighing 146 kilograms (322 pounds). At various times, he has depicted himself online as a playboy surrounded by beautiful women, fast cars and guns; a terrorist hunter and a technology martyr ready to commit suicide.
---