Zynga buys OMGPOP for $200 million
Zynga, the company that created popular Facebook games such as "FarmVille" and "Zynga Poker," announced its acquisition of fellow game developer OMGPOP on Wednesday.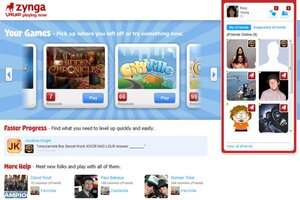 Reuters
We've confirmed the acquisition of OMGPOP by Zynga, the app-studio-eating megalith of social gaming. You know what they say: If you can't beat 'em, buy 'em.
Zynga eventually wants "to get one billion people to play together, and with this announcement, we're getting closer to that goal," said Zynga's chief mobile officer David Ko in a call today.
OMGPOP recently created Draw Something, a simple Pictionary-like app that saw skyrocketing stats for adoption within days of its release. As of last week, the app shop's blockbuster game was showing the following stats, which come to VentureBeat courtesy of OMGPOP chief revenue officer Wilson Kriegel:
14.1 million daily active users
24.5 million installs
1.3 billion drawings created in the game
2,000 drawings per second
Most tweeted-about game ever
Ko updated those stats today, stating the app has seen 35 million downloads altogether during its 6 weeks on the market, and players have created 1 billion drawings in the last week alone.
Draw Something's growth was so meteoric that it even eclipsed Zynga's Words With Friends as the top game on the AppData charts late last week. Now, Zynga has snapped up OMPOP for its very own, and All Things D pegs the sale price at $200 million.
---