Court suppressed Apple evidence, Samsung releases it to media anyway
US District Judge Lucy Koh excluded some of Samsung's evidence from the Apple v. Samsung trial – but the company sent it out in e-mails to media outlets, anyway.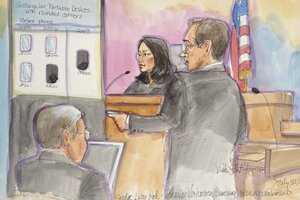 Vicki Behringer/Reuters
In another round of the ongoing Samsung v. Apple case, Samsung released excluded trial evidence to the press Tuesday – a decision that the "audibly irritated" presiding US District Judge Lucy Koh asked the company to address.
But Samsung lawyer John Quinn said Wednesday morning that Samsung was within its rights to release the evidence, comprised of an e-mail, off-the-record testimony, and mock-ups of Samsung phones, including the F700, which Apple alleges is the iPhone copycat.
"I'm worried about the extrudo [sic] shape we're using for P2 etc. looking at what [Apple designer Shin Nishibori is] doing with the sony-style chappy, he's able to achieve a much smaller-looking product with a much nicer shape to have next to your ear and in your pocket," one email between two Apple employees reads.
Mr. Nishibori is an industrial designer at Apple, who refused to testify in court but said he was asked to make a phone prototype based on the question, "if Sony was to make an iPhone, what would it be like?"
Samsung also included a media statement in the e-mails chastising Judge Koh's decision to exclude the evidence.
---