iTunes 11: Sleeker, skinnier, faster
Apple has finally released iTunes 11, the latest edition of its new multimedia platform. And the new iTunes is a beauty.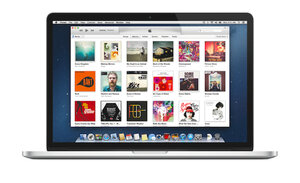 Apple
Back in September, at the iPhone 5 launch event in San Francisco, Apple demoed a new version of its venerable iTunes platform. Today, iTunes 11 goes live, and as Apple promised, the software is significantly overhauled, from the sleek design to the glowing blue iTunes icon.
The tagline of the new iTunes is "simplicity is a beautiful thing," a nod to the gobs of white space and clean, sharp lines that define the interface. A pull-down menu in the upper-left of the display allows users to click between movies, music, TV, apps, and books – select one of the categories, and you get an uncluttered look at your record collection or digital book shelf.
"It's browsing made more intuitive," Apple says.
In addition, Apple has refreshed its iTunes Store to match the aesthetic of the iTunes player, and added something called a Mini Player for the desktop.
---