Reconstructing Adam Lanza's hard drive
Adam Lanza's hard drive is destroyed. Mr. Lanza, the 20-year-old who killed 27 people and himself in Newtown, Conn., last week, smashed his computer the morning of the attacks. Investigators are trying to put Adam Lanza's hard drive back together -- but even if they fail, there might be other ways to see what Lanza was doing before the shootings.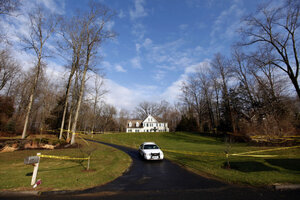 Jason DeCrow/AP
As children return to school in Newtown, Conn., police are beginning to sift through available forensic evidence in hopes of determining why gunman Adam Lanza killed his mother, 26 students and staff at Sandy Hook Elementary School, and himself. It's a process complicated, though, by the fact that Mr. Lanza didn't leave much of a technological trail for investigators to follow.
First, there's Lanza's own computer, which might have held clues about who he communicated with or what he was doing leading up to the attack.
On the morning of the attack, Lanza apparently removed the hard drive from his computer and destroyed it with a hammer or screwdriver, doing such a thorough job that the Connecticut State Police, assisted by the FBI, haven't been able to recover any information from it yet. A source told The Daily Beast that the FBI's computer analysis team is trying to put the pieces of the hard drive back together, but hasn't had any success yet in recovering Lanza's e-mails or the websites he visited.
That's not to say that that information is gone forever, though. If investigators can't coax any information from the mangled hard drive, they might be able to find out about Lanza's online activities from other sources.
---