With latest Corvette, GM resurrects the Stingray name
GM has finally taken the wraps off the seventh-generation Chevrolet Corvette, called the Stingray.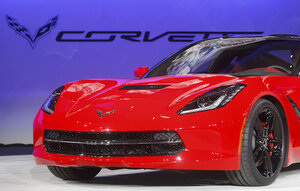 Reuters
Almost a decade after the launch of the sixth-generation Chevrolet Corvette, GM has finally taken the wraps off its official successor – a muscular, carbon fiber-enhanced juggernaut dubbed the Stingray. At a press event at the North American International Auto Show in Detroit, GM exec Mark Reuss said the Stingray apellation, first used on a 1950s Corvette racer, was a good fit for the seventh-generation Corvette.
"It is absolutely the best performance car that we know how to engineer and build," Reuss said. "I will eagerly put this car up against any of the top performance cars in the world. In terms of design, technology and performance, this car is second to none. And it is obtainable. It is so dramatic and special, that we thought it deserved some extra recognition. That's why we're calling it, once again, the Corvette Stingray."
The Stingray will be available with either a seven-speed automatic or a six-speed paddle shift automatic. GM says the 6.2-liter V8 can rocket the car from 0 to 60 m.p.h. in under 4 seconds – expect also 450 horsepower and 450 lbs. per foot of torque, Consumer Reports notes. Of course for many potential Corvette owners, the big selling point isn't just the engine. It's also the looks.
---