Office 365 brings the cloud home
Microsoft Office 365 Home Premium, a subscription-based version of the new Office software, debuts today.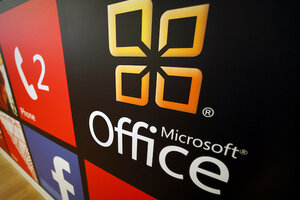 Reuters
On Tuesday, Microsoft took the wraps off Office 365 Home Premium, a cloud-heavy and subscription-based version of its popular Office software.
Here's how it works: For $100 a year, or $8.34 a month, Microsoft will allow you to access the Office 365 suite from up to five devices, including tablets, laptops, and PCs. The company will also throw in 20 GB of SkyDrive cloud storage and "60 free Skype world calling minutes per month to call mobile phones, landlines, or PCs around the world," per the Microsoft press release.
Content across all five devices will be synced, meaning that you can create a Word document on your PC and edit on your tablet, and Microsoft will automatically update the software as new versions become available. (It's worth noting that the Office 365 debuted in 2011, but the early version focused on companies and students. This new iteration, Office 365 Home Premium, takes aim at everyone in between.)
Daunted by the possibility of forking over a hundred bucks a year for X amount of years? Worry not. You can still get a Traditional Home and Student Office 2013 suite for a one-time fee of $140; a Home and Business package will set you back $220.
"This is Office reinvented as a consumer cloud service with all the full-featured Office applications people know and love, together with impressive new cloud and social benefits," Microsoft chief Steve Ballmer said in a statement.
---