In US, Apple is now the most popular mobile phone vendor (sorry, Samsung)
Until Q4 of 2012, Samsung had shipped more phones in the US than any other single company. But now the title appears to belong to Apple.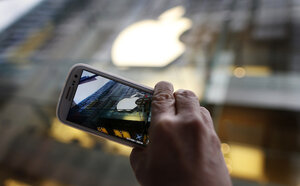 Reuters
Apple is now the most popular smartphone vendor in the United States.
According to a new report from Strategy Analytics, Apple shipped 17.7 million mobile phones in the fourth quarter of 2012, good enough to topple South Korean titan Samsung, which has held the top spot in the US since way back in 2008. Moreover, Apple has posted an impressive year-over-year gain – it managed to unload almost five million more smartphones in Q4 of 2012 than it did in Q4 of 2011.
"Apple's success has been driven by its popular ecosystem of iPhones and App Store, generous carrier subsidies, and extensive marketing around the new iPhone 5 model," reps for Strategy Analytics wrote in a blog post announcing the findings.
---