What's big at Mobile World Congress 2013
New hardware, gadgets, and business partnerships are creating buzz at Mobile World Congress, and it's only day one.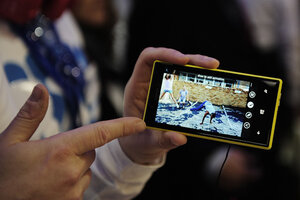 Manu Fernandez
The first day of the 2013 Mobile World Congress in Barcelona has brought several developments that seek to transform the industry, from the prices to the shopping experience on the devices. Here's what took the spotlight on the first day:
New Lumia Phones
Nokia unveiled two new Windows smart phones, the Lumia 520 and the Lumia 720, IBN Live reports. The smart phones, which come in five colors, have a 1 GHz dual-core processor and 512 RAM.
The Lumia 520 has a 4-inch screen and a 5-megapixel camera. Estimated at 139 euros ($184), it is the lowest-priced Windows 8 phone. The Lumia 720 has a 4.3-inch display and a 3.7-megapixel camera. The higher-end phone is estimated to start at 249 euros ($330).
For the first quarter, both models will go on sale in Hong Kong and Vietnam, with the 720 also available in Singapore. Nokia will release the phones in other regions in the second quarter, including other parts of Asia (particularly China and India), Europe, Latin America and Africa in the second quarter.
---